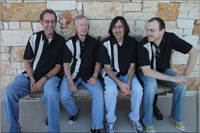 The Nematoads, a trippy, twangy, four-piece modern surf band from Austin, straddle the line between ´60s retro cool and tall-in-the-saddle Tejas twang.

The Nematoads' pasta-fueled excursions embody the sound of The Third Coast, the vibe of the street with a 5-o'clock club beat. This is modern surf with a heart that beats all – six-string action blends the classic sounds of Link Wray, The Ventures, and Davie Allan & the Arrows with the surf-punk of the Dead Kennedys, the twangy madness of Shadowy Men on a Shadowy Planet, and the sonic attack of the Pixies. Of course, we can't forget our Texas roots!

Catch the ironic hypersonic wave of the Nematoads live and prepare yourself for a very different type of Austin show. The Nematoads – ´60s surf cool with Texas instrumental rock.

Behind the reigns is guitarist Ted James – the legendary man with two first names – who, in bygone times, led Johnny Vortex and Squid Vicious. The rhythm section stars bassist Stephen The Pope B and drummer George Pestana. George treats his drums with precision, at times providing a steady pulse and at times experimenting with off-beats and time signatures whispered to him by mermaids from the bottom of the sea. The Pope adds to the melee with his stylin' sense of groove that gives the band the spring in its step and the spice in its chili. Rounding out and filling out the sound is Sean Ellison on trombone.