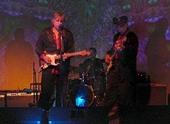 3 Balls of Fire, AKA The Men with the Burning Guitars, was formed in 1987 by guitarist/songwriter Burnin' Mike Vernon. Vernon, born in 1954 (Albuquerque, NM), joined his first band, Stoned Catsup, in Arlington, Texas, in 1969.

From '73-'75 Vernon studied Spanish guitar at the Univ. of Texas-El Paso and then returned to the Dallas-Ft. Worth area where he played in various jazz, blues, rock, and western bands. During this time he had the opportunity to sit in with such greats as Freddie King, Big Joe Turner, Stevie Ray Vaughan, and Gary Duncan of the Quicksilver Messenger Service.

In '79 he formed the instrumental group Perry Mason & the Defendants and cut two 45's for the Mars label. The group played all over the north Texas area and Oklahoma. By '82 the band's sound turned decidedly surf in nature as the band performed surf guitar songs from the '60's and originals by Vernon.

In 1985, Vernon moved to Austin and formed 3 Balls of Fire. Joining in on bass and drums was Vic Gerrard and Chris Stix Staples, forming the tightly-wound rhythm section on the Balls' self-titled debut recording on Amazing Records in 1987.

In 1989, Gerard and Staples joined Two Hoots and a Holler, and Vernon kept the group alive by adding Jackie Newhouse (Stevie Ray Vaughan's bassist until 1980) and a revolving list of stellar players from the Austin area. In the early '90's, the group released two cassettes, toured from Louisiana to California, had their music featured in the movie Good Girl, Bad Girl, and opened for Dick Dale's first national tour in Austin in 1993.

The original lineup of 3 Balls of Fire reunited in 1998 and released The Best of the Balls, 1988-1998 CD to critical acclaim. After two years of regular Friday night gigs at Ego's Lounge, they released the Friday Night at Ego's Lounge CD on Austin's Deep Eddy Records in January 2000. The Austin Chronicle listed the album in the Texas top ten of 2000. The same year saw the band do a tour with George Tomsco, backing the legendary guitarist for the Fireballs. In June 2001, Nokie Edwards of the Ventures toured select Texas cities with the Balls as his backing band!

The Balls released their FirePower CD in 2002, Chrome & Water in 2004 and Jet Set Guitars in 2008. All of the Balls' CDs have landed in several top ten of the year lists. Firepower was followed by the FirePower Express tour in summer 2002, and several cuts from the CD appeared on national tv (WB, FOX), NPR, three surf compilations, two surfing videos and Muzack!!! The Shock-n-Awe tour of 2003 was a smashing sucsess, and 2004 saw the release of 'Chrome & Water'and several west coast appearances. With appearances in New York and London,emmy-winnning television credits and the prestigeous Austin Music Awards in '06, the Balls just keep a rollin' to glory....

Some of the other players who have performed or recorded with 3BF include Link Wray, Nokie Edwards of the Ventures, Jerry Cole, Wanda Jackson, George Tomsco of the Fireballs, Clifford Honky Tonk Scott (Duke Ellington, Bill Doggett), Earl Poole Ball (Johnny Cash), Bob Spalding of the Ventures, Branford Marsallis, Dennis Quaid, Don Felder (Eagles) Stu Cook (Creedence Clearwater Revival) Billy Burnett (Fleetwood Mac) Mark Andes (Spirit, Jo Jo Gunne, Heart) Jimmy Carl Black (Mothers of Invention), Jimmie Randall (Jo Jo Gunne) Dusty Watson (Dick Dale, Slacktone, Agent Orange), Scott Esbeck (Los Straitjackets), Ty Grimes (Captain Beefheart), Jackie Newhouse (Stevie Ray Vaughan), Charlie Sexton (Bob Dylan), Frankie Camaro, Mike Buck (Fabulous Thunderbirds), Keith Ferguson (Fabulous Thunderbirds), Dave Wronski (Jon & the Nightriders, Slacktone), Speedy Sparks (Sir Douglas Quintet), Nico Leophonte (Gene Summers), Pierre Peligrin (Havana 3AM), Ernie Durawa (Texas Tornadoes), Alejandro Escovedo, Thierry Lecoz, Ted Roddy, Freddie Krc (Roky Erickson, Explosives), Lou Ann Barton, Legendary Stardust Cowboy, Lisa Pankratz (Teisco del Rey, Ronnie Dawson), Mike Robberson (Joe Ely) and Homer Henderson.