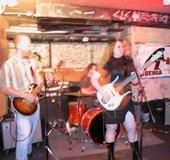 The Demands put on an aggressive, high energy, sexy show. The three-piece on High Wire sounds like a much bigger band – Jahna Rain's sultry vocals have been compared to Chrissie Hynde and Etta James, John Pardo's guitar work owes as much to Creedence as it does to Television and drummer 'Memphis' Mike is a powerhouse that ties it all together with a tornado's speed and energy. Rain and Pardo's songwriting effectively fuses the swing and stomp of 60's soul with the angular edginess of 70's punk and the melodic impact of power-pop and glam rock. "High Wire" also features guest backing vocalists Paige Sixteen (High School Sweethearts), Julia Rogers (Mister Badger) and Cynthia Santiglia (High School Sweethearts). Paige Sixteen also provides keyboard wrangling for High Wire.

The Demands currently hail from Yonkers, Brooklyn and Jersey City (and partially Memphis, TN). Although Jahna Rain and John Pardo have been collaborating as The Demands since 2000, the band has grown at times from the original three piece to include as many as six members, depending on the sound they are looking to create. High Wire was conceived in the rehearsal studios in the basement of Passout Records in Brooklyn, NY, recorded at Emandee Studios in Brooklyn, NY, and mastered at The Brain Machine in Austin, TX.

High Wire is The Demands' second full-length release on Deep Eddy Records out of Austin, TX. The first, "Play For You" (Deep Eddy, 2005), features Julia Rogers (Mister Badger) on organ and vocals and as a co-songwriter and Jimmy Farrel on drums.