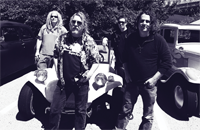 Drew Townson – lead guitar
Al Harper – rhythm/lead guitar
Adam Cat – bass
Paul Gallo – drums
Hometown: Boston, MA
One hot Saturday afternoon in 1988, Texas blues guitarist Drew Townson, then freshly relocated to Boston from Dallas, was watching The Good, The Bad and The Ugly on TV. The music in the legendary Italian western caught Drew's attention, big time. He jumped off the couch, grabbed his guitar, and began playing in a whole new way. That moment changed Drew's musical direction forever. In 1989, he started the Derangers (rhymes with strangers), dedicated to playing spooky instrumental themes, encompassing spaghetti western, surf, spy-jazz, and more. The first original recording by The Derangers was a cinematic western called Rio Sangre, released in 1990, which was internationally hailed as a standout track. Some called it desert surf or Texas surf. By the early '90s, film directors like David Lynch and Quentin Tarantino also began exploring this haunted, reverberant sound in their movies. As a guitarist, Drew had always been a fan of Duane Eddy and surf guitar kings like Dick Dale and The Ventures, as well as wearing his love for Texas blues on his sleeve at all times. So it was only natural to combine these influences in to the Derangers' Westermental sound. Armed with his vintage Stratocaster, Daphne Blue, Drew and guys gigged, toured and recorded steadily from 1990 to 2000, always exploring the twangiest side of surf. In 2011, after a decade of dormancy, Drew resurrected the band and the sound, returning to catch the wave of a new and vibrant instrumental generation. Get ready to "Twang 'em High;" the Derangers ride again!

The Legend of Daphne Blue and the Westernmental Sound is a retrospective of the best Derangers instrumental music spanning more than two decades. 1990's original spaghetti western-styled theme, Rio Sangre is the collection's oldest track, and the band's twangified cover of Wichita Lineman, recorded in November of 2013, is the newest.
The music ranges from straight early '60s California surf with tracks like Santa Monica and Monkey Island to the exotic spy jazz and Arabesque motifs of Ether Cocktail and The Impaler. There's '69 Firebird's hot rod sound and the lush tropical layering of "Agave Rain. But the main wave of the Derangers' sound is their Westermental themes. Tracks like Rio Sangre, Tears of the Seneca, Twang 'em High, and El Chupacabra conjure cinematic images of a lone rider emerging over the desert horizon, making his way toward a doomed desert town, accompanied only by danger.
Front and center is Drew Townson's steely, reverb-clad guitar, supported by a cast of some of the best players in the New England music scene. So jump in your vintage Longhorn Caddy Convertible, turn west on Route 66, and cruise to the Westermental sound of The Derangers' first full length album, The Legend of Daphne Blue and the Westernmental Sound.