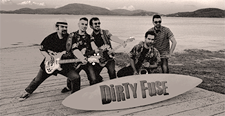 Kostas Bakoulas – guitar
Manolis Kisamatakis – sax
John Drake – bass
Duda Victor – guitar, tzouras
Christos Kogios – drums
Hometown: Athens, Greece
Dirty Fuse were formed in 2008 by guitarist Duda Victor and drummer Chris Kogios in order to explore the frenzied world of surf rock. Mainly influenced by Dick Dale, Ventures, Atlantics, Ramones and Televison, their music is based on old school '60s surf music, channeled through the energy of garage and punk rock.

As a trio (Guitar-bass-drums) begin wandering the live bars and venues of Athens playing mostly their own music. After a few lineup changes in mid 2009 they recorded their first songs which will be released a year later on 7 "vinyl "Lost Riders".

During 2010, Manos Kisamitakis (saxophone) John Drake (bass) and Costas Bakoulas (guitar) added to the band, along with Duda Victor and Chris Kogios. In 2012 Dirty Fuse released a self-titled, full-length CD including the track "Sunset Beach" (a surf cover of V. Tsistanis' "Akroyalies Dilina") which meets great acceptance by DJs and radio producers (voted #47 of the 101 best surf tracks worldwide since the '70s by the listeners of North Sea Surf Radio and the members of the SurfGuitar101.com forum).

In 2013 the band released a 10" vinyl titled "Surfbetika!" with 7 rebetika songs surfed up! Continuous shows and dynamic live presence became Dirty Fuse`s trademark throughout the years.

Dirty Fuse`s significant timeline marks are their appearance with The Atlantics in Greece for two shows on July 2013, Surfer Joe Summer Festival in Italy [2012], the arranging of Surf Rock Mayhem (the first all-surf-music live event at Bios) [2013], opening for Invisible Surfers at AN Club [2012]. In September 2014, Dirty Fuse signed with Austin´s Deep Eddy Records for the release of their latest CD Last Wave.