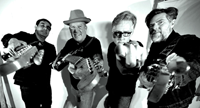 Ernest Hernandez III – guitar
Dennis Fallon – guitar
Darren Kuper – drums
Lloyd Walsh – bass
Hometown: San Antonio, TX
King Pelican is an instrumental rock and roll band from San Antonio,Texas, who dig the surf and garage sounds of the early 60s.

The band is Ernest Hernandez III (guitar), Darren Kuper (drums), Lloyd Walsh (bass) and Dennis Fallon (guitar) all established veterans of the So.TX. music scene.

King Pelican's debut release, the EP entitled - "The Good, The Bad and The Reverb" features five original songs and has been well-received by surf fans all around the world!
King Pelican has been honored to share the stage with legends like Dick Dale, The Red Elvises, Deke Dickerson & the Ecco-Fonics and V2-Ventures (Bob Spalding and Leon Taylor)...but we also love gigging with all our South Texas friends - The Ugly Beats, The SoulPhonics, The Thunderchiefs, The Boss Jaguars, The Del-Vipers, The Dixie Hammers, Snowbyrd, Apache '65, The Dead Barons, The Lucky Odds, The In and The Outlaws (RIP)...just to name a few of the great bands we get to do shows with! We look forward to seeing you at a show soon!

2015 saw the band signing with long-running independent surf/garage record label Deep Eddy Records of Austin, TX, and, subsequently, the anticipated release of their debut full-length album. Matador Surfer was released in March 2015.