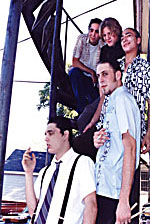 The Soda Pop Spys are a powerful quintet featuring Jared Theis (lead guitar), Jacinto LeFebre (trumpet), Jesus Cantu (rhythm guitar), Donald Meints (bass/lead vocals), and BJ "Beej" Schuler (drums).

Together they play a combination of swing, instrumental surf, pop, and stomp. This band caters to a wide variety of listeners. With the ability to play up to four hours of original music, the Soda Pop Spys can rock and swing the house all night long.

A full performance by the kooky cats includes dancing, driving energy, acrobatic feats, and just overall entertainment.

Influences range from jazz greats Duke Ellington and Benny Goodman to '60's surf gods Dick Dale and the Ventures and all the way back to the rockin' sounds of Chuck Berry and early Elvis.

The Soda Pop Spys guarantee a fun-filled arrangement of sweet, fruit-flavored music and overall entertainment.