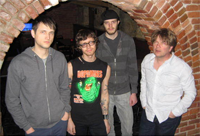 Brook Hoover – guitar
Ian Williams – guitar
Trevor Treiber – bass
Tyler Russell – drums
Hometown: Cedar Rapids, IA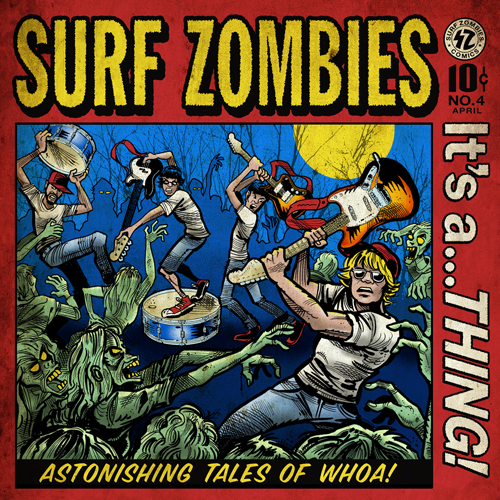 Meet The Surf Zombies! We play fast crazy fun surf instrumentals. We have four full length records out with our latest It's a....THING! just released. We love to play live and seem to be on a roll. Our first gig was opening for Dick Dale, and we have rocked numerous festivals, car shows, and night clubs since. Past festivals include Iowa Summer of the Arts, Friday'Loo in Waterloo, 319Fest, CR Amphitheatre Fest, Tourquefest, Sand in the City Fest, Gregory J's Flying Eyeball Reunion, Barbeque Round-up, Tanager Place Car Show, Iowa Rock N Roll Hall of Fame concert, and Floodstock.

The studio we record in is in my basement, and it is a fun relaxed place to lay down tracks. We have a nice collection of '50s and '60s tube amps down there, so it's a good place to hang out. I use a mid '60s Deluxe Reverb amp live and play a Jaguar. Surf Zombies shows make me nervous, but we have stuck with it for about 8 years, and it's getting easier and more fun all the time. I too am a studio operator guy and am a reasonably popular guitar teacher. I am still in shock I earn a living fiddling around with guitars and amps.

Something about surf instrumentals seemed very distant, exotic, and alluring to us. It's a happy sound, but it can also be pretty heavy and menacing. We learned Wipe Out and played it for our 9th grade talent assembly. The whole school screamed like Beatlemania and it's been downhill ever since. I have been out punk rockin in the midwest since the '70s. We rediscovered our landlocked surf roots a few years back, and it's been a thrilling hellride ever since.

Surf instrumentals can be light and happy, medium tempo, slow and creepy, or super fast and heavy. We take a lot of time writing and arranging our songs, but once we get the sound the way we like it, it's well worth the work. It's the most challenging band we've ever been in. It's easy to screw up with this style especially with no vocalist as a focal point. Our first CD was done a few years back in Iowa City. Our 2nd CD is Something Weird followed by Lust for Rust. We'd like to thank everyone for coming to our shows and sharing the fun of this exciting form of music!