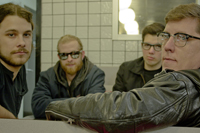 Noah Holt – guitar
Erek Smith – bass
Chris Eagle – keyboard
Josh Jackson – drums
Hometown: Jacksonville, AL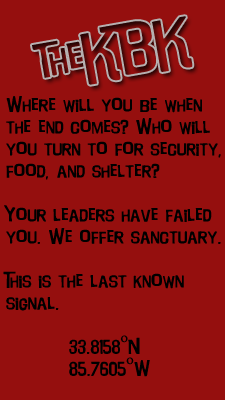 The soundtrack for the apocalypse. This is the sound of civilization ending and a new world taking shape.

Initially a home studio project started in 2003 under the name Kill, Baby...Kill!, The KBK delivered its first Apocalyptic Testament to the public in 2010. From that moment forward the band set out to deliver the message of destruction and hope to the masses with a tour schedule that has seen over 150 dates in 23 states, sharing stages with such legendary and/or critically acclaimed artists as The Men, Man or Astro-man?, Southern Culture on the Skids, The Oblivians, Jucifer, and hundreds of others.

The band self-released its debut EP, Sometimes They Come Back, in 2011 to critical acclaim and unexpectedly large sales. This led to signing with legendary surf/garage label Deep Eddy Records in Austin, TX.

In 2013 the band followed up their debut EP with their first full length album. Corridor X was met with great reviews and unexpectedly high sales, becoming profitable for Deep Eddy Records in less than two months.
2015 was ushered in with a name change to The KBK (to avoid confusion with a certain white power band from Belgium) and a renewed sense of being for the band. Their schedule was slowed in order to allow time to write new material and rework their stage show and aesthetic.
In July 2015 the band will debut the new live show and proceed with spreading their Apocalyptic Testament to the world.
Plans are also in the works to enter the studio in late 2015 to begin the follow-up to Corridor X. The band also plans their first visit to the west coast in early 2016.
Other accomplishments for The KBK:

Performing at The Instro Summit (world's largest instrumental music festival) in North Carolina, including 3 years headlining.
Inclusion in the Secret Stages Discovery Festival 2012 in Birmingham, AL.
Soundtrack appearance for the film Gut Munchers.